This past week, news broke about a class-action lawsuit Fitbit Charge HR now faces due to inaccurate and dangerously low heart rate readouts.
The Fitbit Charge HR is the only heart rate monitor I've ever used. I first bought it in February of 2015 to use for DDPYoga, but also because I was curious about how many steps I was getting in a day (turns out, it's not a lot). Back in June, I said I was underwhelmed with its performance. No matter how hard I was working, sometimes my heart rate was barely breaking 100 (and my zone is 134-154). Or, sometimes I'd be near my zone, and literally seconds later I'd be back in the 90s again.
In December, some people on the private Facebook group for DDPYoga certified instructors were asking about new heart rate monitors. DDPYoga instructor Christina Russell commented that the DDPYoga Performance Center uses the Wahoo Tickr X because it's the most accurate they've tested. With some Christmas money, I bought the Tickr X.
I wanted to see how the Fitbit did compared to the Tickr X, so I put them both on at the same time. It only took me a few workouts to see that the Tickr X killed the Fitbit in direct competition.
Obviously, this isn't a scientific comparison. But, with each workout, my heart rate was about 10 bpm higher on the Tickr X compared to the Charge HR. That number may not seem like much, but look at the difference in calories burned.
Also, my right shoulder was sore during these workouts, so I wasn't necessarily looking to get into my target zone and stay there. Instead, I was just looking to stretch out a bit. So keep that in mind.
DDPYoga – New Year's Eve
On New Year's Eve, I did a lower body workout so I wouldn't have to use my arm as much. I don't remember which one, but I was using the DDPYoga Now app (which is pretty cool, by the way).
Martial Arts – New Year's Day
When I was training with my karate instructor, he told me about a tradition he'd had at one point – training your whole system on New Year's Day. I kind of did that. I warmed up with some DDPYoga stretching before doing the old Yang-style tai chi chuan form, followed by the five Hsing-i elements and the animal forms I've been taught thus far. After that, I reviewed my karate forms and ippons, taezus, and kihons in 2 directions. If the should would've been feeling better, I would have done 8. Notice the downward trend at the end, which was me trying to remember some of those wazas since I haven't actively practiced them in eight months.
DDPYoga – Jan. 02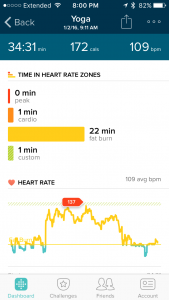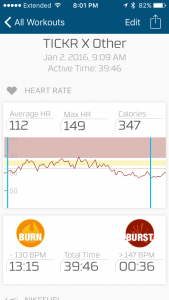 This was probably Stand Up 2.0. The average bpm was closest here, though there are still widely varying numbers.
After this workout, I decided to ditch the Fitbit entirely. I know I don't get as many steps as the "gold standard" of 10,000, and I'm tired of feeling inferior to people telling me they have three times as many steps as I do for the day. I know I think I'm sleeping 7 hours, but may really only be getting 5.5 hours of sleep (as we compared Fitbit stats, a person I went on a date with was shocked at how restless I was). And I know, with pretty convincing supporting evidence, that my heart rate is better measured with the Wahoo Tickr X than the Fitbit Charge HR.