One of the most frequent questions I get about Metamora Martial Arts is, "What's the cost to join?"
On this page, you'll learn:
How our pricing is structured
How to register for classes
Our stance on trials, refunds, and prorated discounts
What other martial arts programs cost in the area
What Does It Cost To Join Metamora Martial Arts Through The Metamora Park District?
The Metamora Park District and I offer two different ways to pay for both the Karate and Tai Chi Chuan classes:
Monthly

$35 per month for residents within the Metamora Park District.
$40 per month for residents outside the Metamora Park District.

4 Months At A Time

$130 per session for residents within the Metamora Park District ($32.50/month).
$145 per session for residents outside the Metamora Park District ($36.25/month).
As a bonus, anyone who signs up for 4 months of the Karate class will receive a free uniform!
How Do I Pay For Class At The Metamora Park District?
First, visit the Metamora Park District website at http://www.metamoraparks.org/webpages/program-list.php
Take note of the class code on the left-hand side.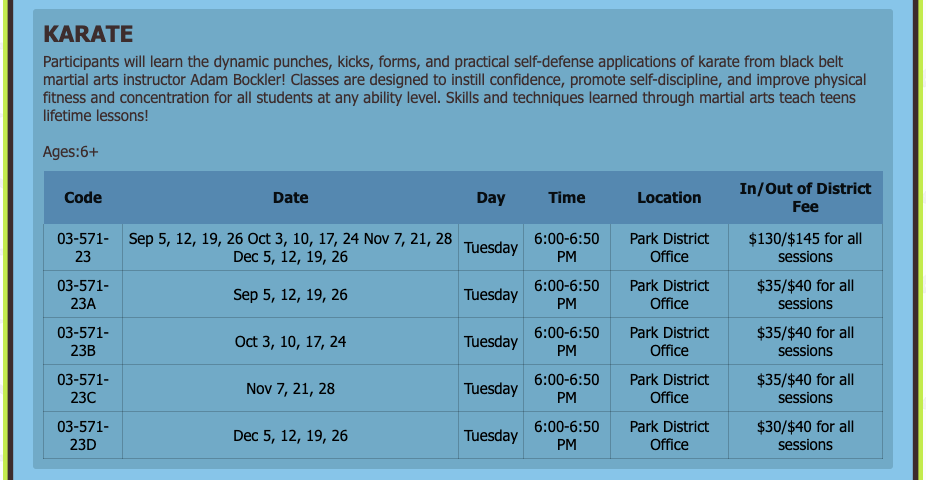 Then, scroll up to "How do I sign up?"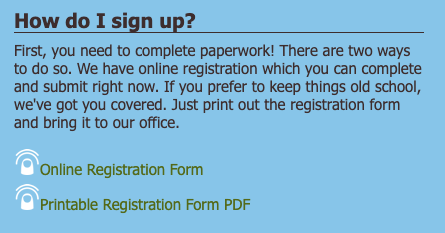 From there, you can either print the registration form or register online.
Print The Registration Form
If you print the registration form, please fill in all fields.
Then, mail it along with your payment (cash or check made out to Metamora Park District) to the PO Box on the form.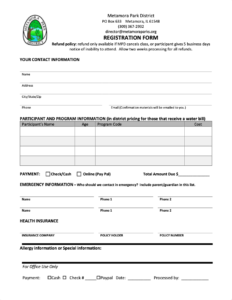 Please do not use this form as the park district may have updated their form since this post was published.
Register Online
The online program registration uses a Google form.
Start by submitting your email.
Then, fill out your information.
Complete the final registration step by filling in some additional information and agreeing to the waivers and releases, and you're set.
Frequently Asked Questions
What's The Difference Between In-District and Out-Of-District?
In general, the Metamora Park District encompasses most of the homes within the village of Metamora
The district covers many of the homes from near Timber Oak Drive to the west, North Fork Road to the north, Mennonite Road to the East, and Redbird Storage or Metamora Church to the south.
View the Metamora district map to learn more about the boundaries.
Are You With The Metamora Park District?
No.
I've partnered with the park district to present martial arts classes.
You must register for class with the park district and not with me directly.
Does The Park District Accept Credit Cards?
No—the park district only accepts cash or checks made out to Metamora Park District.
Do You Offer Free Classes?
We do not offer free or trial classes at this time.
Can I Sign Up For Class Without Paying? 
Yes, but you will only be considered registered for class if you have paid.
We have a limit on how many students we can accept.
Spots can only be guaranteed for paid students.
Can I Wait To Pay Until The First Class of The Session Or Month?
If spots are available, yes—payment is due at the first class.
Will You Prorate My 4-month Rate If I Join Late, Or Refund Me If I'm Unable To Continue?
Generally, we don't prorate or refund students.
However, we want to be lenient for unique circumstances.
Do You Offer One-Time Class Passes, Punch Cards, or Drop-ins?
No.
This class is unlike what you might think of as a group fitness class.
I have taught group fitness classes in the form of DDPY, otherwise known as DDP Yoga.
For the most part, someone can drop in or out of a group fitness class and be able to pick up where they left off the last time they came to class, whether it was 2 weeks, 4 weeks, or even 8 weeks ago. Their success with that class will vary.
However, unlike group fitness classes, the skills learned in martial arts build upon each other.
The punches, blocks, and kicks you learn in the first month will be the same techniques you use in the third month.
Everything builds upon the first few weeks of classes.
If a student needs to miss class for a family or school event, that's one thing.
But, in my opinion, dropping into class at random times would lead to a poor experience for you and the other students.
You would likely be frustrated that you're not able to keep up in the class because you haven't learned the necessary skills everyone else already has.
And the rest of the class could feel frustrated that they're having to slow their own progression as a result of my taking time to review your new techniques.
Do You Offer Private Lessons?
Yes—please see this post for more information about private lessons.
What Do Other Martial Arts Schools In The Area Cost?
The greater Peoria as a whole is a great region for quality martial arts instruction.
I've compiled a list of schools that are within about a 10-mile radius of Metamora to help you get an idea of what other programs charge and what is included in that charge.
| | | | |
| --- | --- | --- | --- |
| Program | Location | Cost | What's Included |
| Metamora Martial Arts | Metamora | Starting at $32.50 per month | 1 class per week |
| Kurtz' Tae Kwon Do | Germantown Hills | Not listed online | 4 days per week of regularly scheduled classes |
| Heartland Dojo | Roanoke | $90 per month (with family discounts) | 3 days per week of regularly scheduled classes |
| Academy of Okinawan Karate | Eureka | Not listed online | 3 days per week of regularly scheduled classes |
| Washington Park District | Washington | $30 per month for residents / $35 per month for non-residents | 3 days per week of regularly scheduled classes |
| Midwest Martial Arts | Washington | Not listed online | Not listed online |
| Kuk Sool Won | Washington | Not listed online | 2-3 days per week of regularly scheduled classes |
| Kelly O'Keefe Martial Arts | Sunnyland | Not listed online | Not listed online |
Some programs also offer deals that include free uniforms, or special introductory discounts.
How Does This Pricing Compare To Other Martial Arts Classes At Metamora Park District?
From my martial arts classes to Zumbini, Generation Pound, TurboKick, and PiYo, Metamora Park District offers a number of fitness classes!
These classes range from $80 to $130 per session (in district) or $95 to $145 (out of district).