2022 has been one of the most fulfilling years of my life.
That's thanks in large part to reigniting my love of martial arts.
In this post, I take a look back at the highlights of the Metamora Martial Arts program and what lies ahead in 2023.
January
It all started in my basement.
In early 2021, my karate student's mom reached out to me about personal training and martial arts for her son.
She said karate was the only activity he didn't say no to.
In March 2021, we started training in my garage, continuing through the summer.
When it got cold, we moved to the basement.
I knew I wanted another environment, but with the effects of COVID-19 still lingering, I wasn't sure how long we'd be training at my house.
This year changed all that.
March
I competed for the first time in eight years at the Bill Auvenshine Memorial Tournament.
I wound up taking first place in men's black belt forms with Kanku Sho, and 2nd place in men's black belt sparring.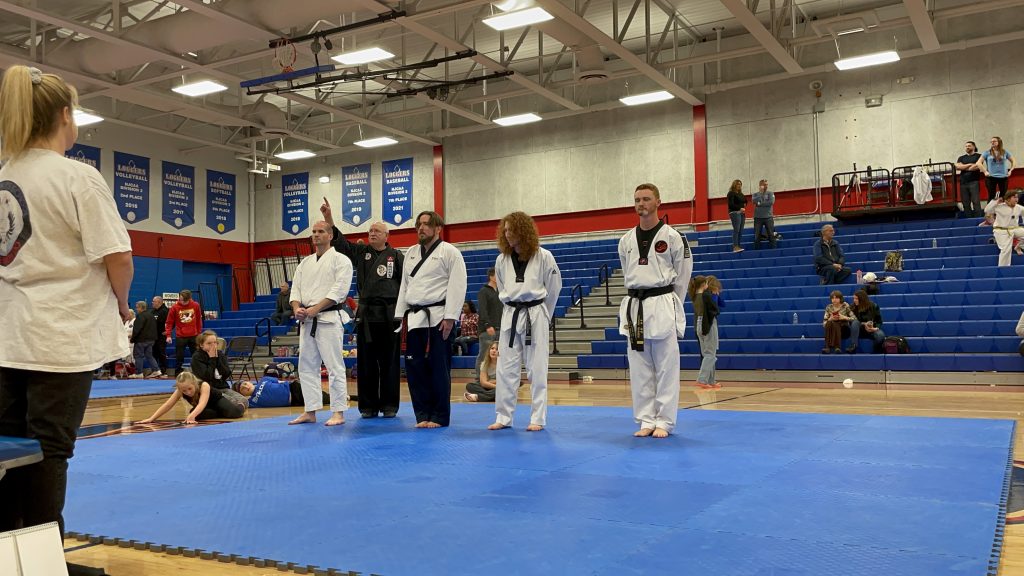 My karate student wanted to compete at this event but ended up having a conflict and couldn't—we set our sights on November.
May
I began teaching classes at Metamora Parks & Recreation!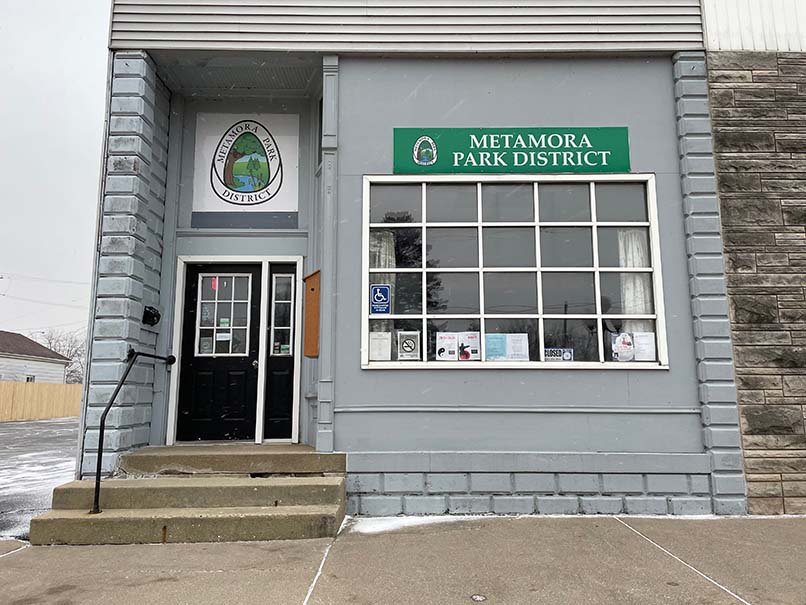 This was actually my second venture into teaching martial arts after I tried to teach tai chi chuan there in 2018, but I dropped the class due to low attendance.
However, I continued a multi-year partnership with the park district after first teaching DDP Yoga there in 2016.
I'm glad to be back.
August
For months, I waffled on whether to pursue teaching martial arts more seriously despite having already opened up two classes with the park district.
When our leadership team sent my fellow employees and me a business book over the summer, I decided I was all-in on building Metamora Martial Arts once again.
I implemented the entrepreneurial operation system (EOS) developed by Gino Wickman in his book, Traction.
Even though I haven't fully activated all parts of EOS—and the book seems geared toward larger organizations and teams instead of a solopreneur like myself—the remaining months of this year began to bear its fruit.
September
A group of new students joined the tai chi chuan class.
More importantly, though, the average attendance per class increased to 4.8 during the September-December session over the May-August session's 3.5.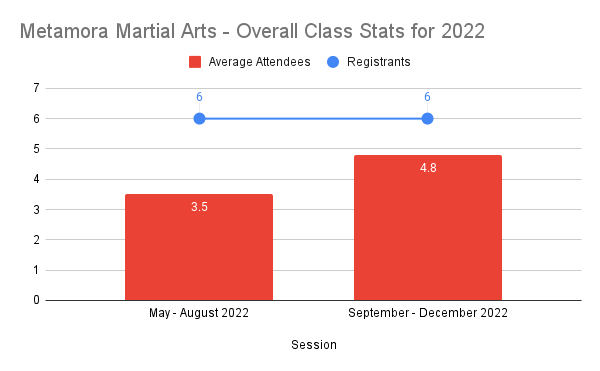 I took this as a sign that the Tai Chi Chuan class may have been more engaging or that people understood better what to expect when they signed up.
I also produced a series of blog posts in September around some common questions people have about martial arts.
Finally in September, I ventured to Walker's Tae Kwon Do in Bloomington for a sparring workout.
October
I went with my karate student and his dad to Forsyth for a sparring workout with Sharp's Taekwondo.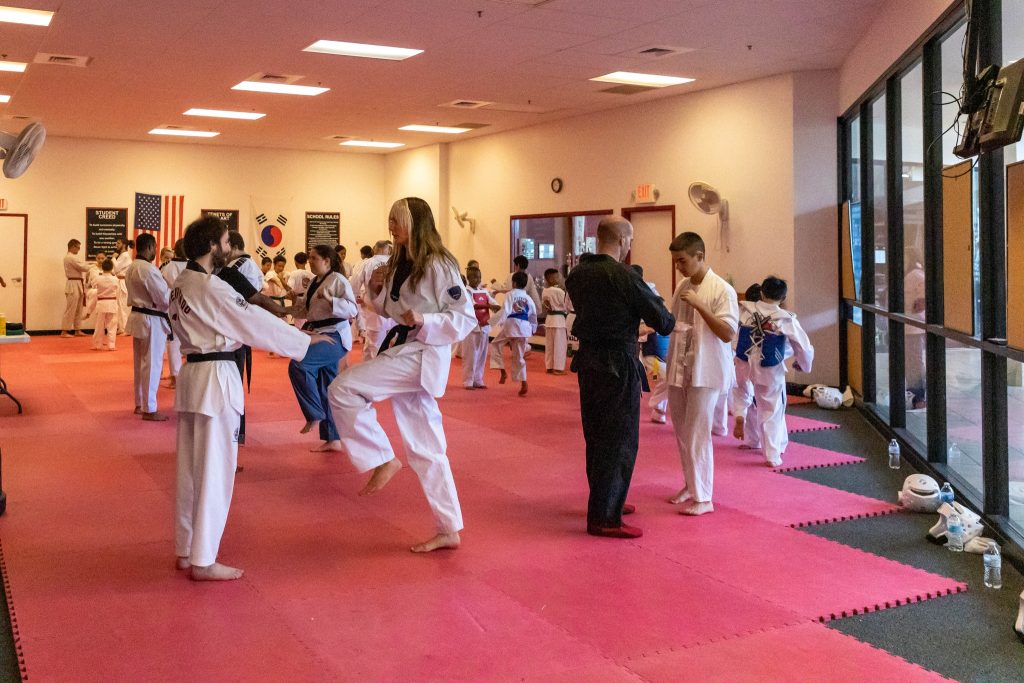 He got to spar students his size, age, and rank for the first time.
I was excited to go, but I wound up feeling terrible while I was there.
Pro tip: Don't get your flu shot the day before a fun workout.
November
Our karate student competed at Sharp's Taekwondo Midwest Open in Decatur.
He captured 3rd place in forms and 2nd place in sparring.
This was his first-ever martial arts competition, and he's excited to return to the mats for the Bill Auvenshine Memorial Tournament in March 2023.
December
This month brought about a lot of changes I'm excited about.
Changes To Pricing Model & Allowing Younger Students
I worked with the Metamora Park District director to update our pricing as a result of my EOS work and revenue goals for 2023.
Participants can still pay for four months of classes at a time, but we've added a new option: monthly payments.
With monthly payments, students don't have to pay for four months without having tried it before.
And, this allows new students to sign up every month.
Previously, I could only sign new students up three times a year for classes that started in January, May, and September.
Students who sign up for a four-month block of the Karate class will receive a free uniform!
I'm also allowing students as young as 6 years old to join the Karate class, while Tai Chi Chuan remains an 18+ environment.
Metamora Martial Arts Named IOBK Affiliate School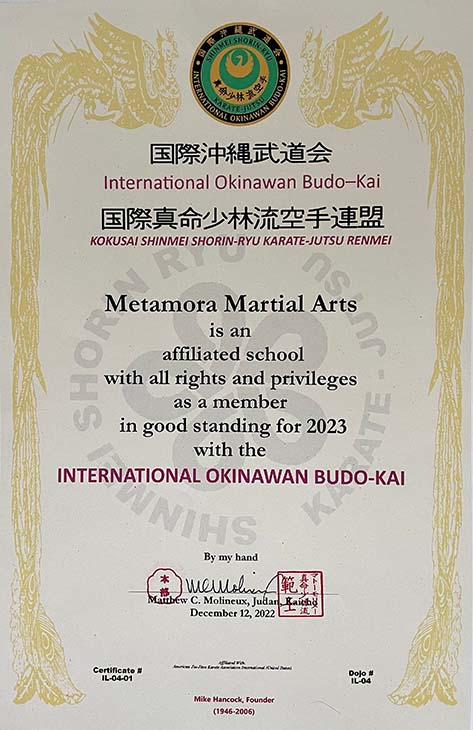 Much to my surprise, our program was named an affiliate school with the International Okinawan Budo-Kai just before Christmas.
We now belong to a larger network of talented martial artists.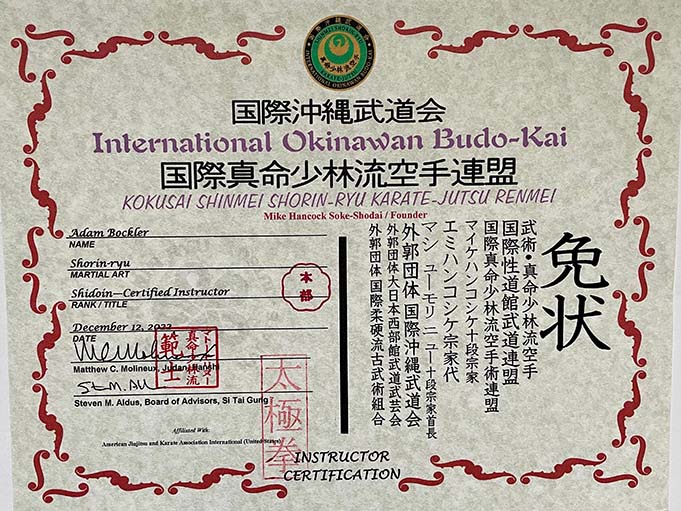 I have also been designated as a certified instructor by the IOBK.
I Own metamoramartialarts.com For The First Time Since 2018
In the late 2000s, I purchased metamoramartialarts.com when our program was based out of Metamora Township High School.
Every year, I paid for the domain and hosting associated with it.
In 2014, I stopped teaching martial classes.
That's why I finally decided to not renew the purchase in 2018.
And I've kicked myself for it every year since, especially when I tried to buy the domain in 2021 only to find out someone else had locked it up.
For more than a year, I checked the status of the domain to see if it had become available, discouraged by the September 2023 expiration date on it.
Until late on Saturday night when I typed it into my domain registrar and saw that it was available.
I even called my fiance over to ask if I hadn't misspelled it; she assured me I hadn't.
So I locked it up for three years!
What Will 2023 Bring?
I'm expecting quite a few new students in January as a result of lowering the age.
I'm also hoping to expand my reach to more mature adults by offering tai chi chuan in the hopes that they'll find it beneficial for their health and wellness.
Plus, as mentioned, we're already eyeing tournaments in March and potentially June 2023.
Finally, I'm already planning what the new metamoramartialarts.com will look like to better serve our students!
If you're interested in joining a class, please contact me!